Take Control
OF Your Health
With our help, you now can have access to international medical expertise and assistance tailored to your needs. Fight cancer with your best allies!
Studies have clearly shown us: the better informed patients are about their illness, the more empowered they are to make choices that lead to improved quality of life and care.
If you have been diagnosed with cancer, it is normal to feel overwhelmed, vulnerable and scared. But you don't have to do it alone.
HEAL21 IS THE ALTERNATIVE FOR THOSE WHO NEED MORE INFORMATION OR A SECOND OPINION ON THEIR CASE.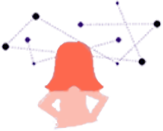 Multi-disciplinary
evaluations

We help your doctor to help you!

You get the right guidance to streamline your therapeutic pathway.

Second opinion evaluations from renowned international experts.

You get a clear and quick idea of the solutions available to you.

No waiting for weeks. No bureaucracy. No need to travel.
When can you benefit of the Heal21 services?
Have you ever walked out of a doctor's office and felt like you didn't understand anything? Anything else you wanted to ask, but there wasn't enough time due to busy schedules? If you ask questions like ….
Don't be afraid to clarify answers you didn't get or ask for a second opinion. Find out the answers you need!
How can you benefit of the Heal21 services?
IN THE FIGHT AGAINST CANCER, RECEIVING THE RIGHT INFORMATION AND ACCESS TO THE RIGHT EXPERTISE AT THE RIGHT TIME CAN BE VITAL
Help us provide the highest standards of care to as many cancer patients as possible. Our work depends entirely on your support, ensuring the continuity of free services offered to people who need support!